The infrastructure construction sector covers a wide range of activities.
Water collection stations
3D modelling at the heart of infrastructure projects.
Computer-aided design (CAD), 3D modelling, and computer-aided drawing and drafting (CADD) software are essential in infrastructure projects. These methods and tools are grouped under the acronyms AEC (Architecture, Engineering & Construction) and BIM (Building Information Modelling).
These 3D digital models can be used in all project stages:
Planning
Design
Construction
Operation of buildings and infrastructure
Numerous software and file formats.
There are many BIM software options on the market, including the well-renowned AutoCAD, Civil 3D, MicroStation, Autodesk Revit, Tekla Structures, ATGT Topo3D (formerly Aerotopo).
This profusion of tools reflects a booming market. The other side of the coin is that designers have to deal with multiple file formats: DWG, DGN, IFC, etc. This diversity inherently produces complexity when it comes to combining all the design data for an infrastructure project.






Le partage de l'information et la collaboration entre équipes : le coeur du réacteur des projets d'infrastructures.
Direct data flows
One of the main difficulties encountered in managing an infrastructure project is dealing with data silos. Both the volume and variety of print or digital documents inherently lead to a loss of information, a lack of traceability, and errors. Too often, the same task is performed several times.
This complex management of information results in a loss of value, and can lead to organisational and legal risks for all project players.
There can also be compatibility problems between the various CAD and 3D modelling tools, which slow down project management and generate errors.
In this context, effectively disseminating information to all stakeholders is a complex task. This difficulty can be reinforced when the project, by its nature, involves high standards in terms of IT security. This is particularly relevant in the case of nuclear construction projects, which require offline storage, encryption, strictly regulated access rules, etc.
Coordinate a multitude of different skills
Infrastructure constructions involve many stakeholders, including public decision-makers, economic players, development professionals, suppliers, and subcontractors.
There are many hardships encountered by stakeholders throughout the life cycle of an infrastructure. One of which is the coordination of teams with varied levels and types of expertise. In projects such as these, errors can lead to delays that accumulate and, ultimately, generate colossal additional costs.
The SmartShape promise: encouraging the use of mass data and fostering collaboration between project players.
Document-free and paperless sites, where all the necessary information is shared by all.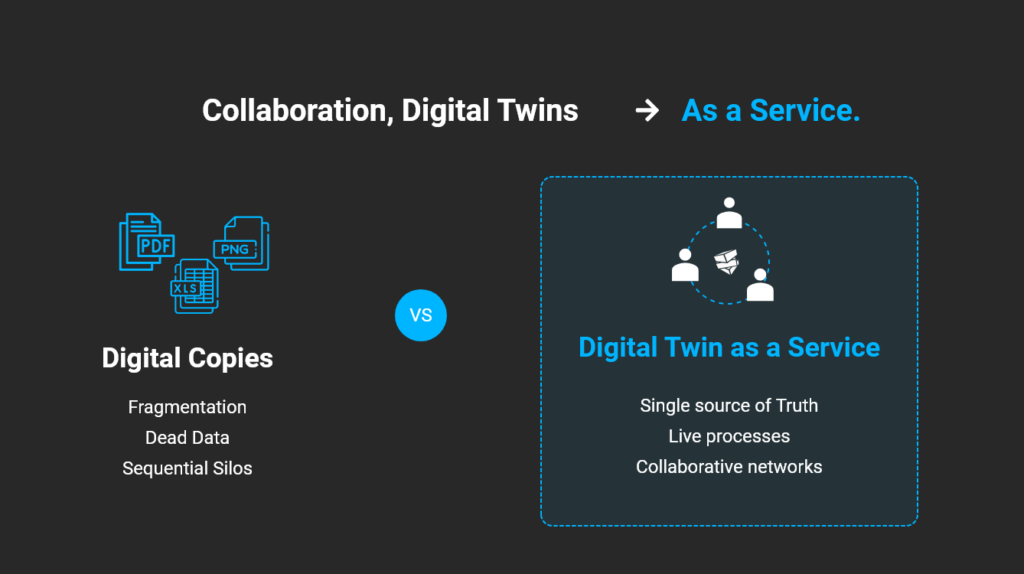 Digital copies
Infrastructure projects shared between print and digital documents do not benefit from a single, persistent frame of reference. Information is spread across various media, and users can only view and modify their own copies, which automatically results in fragmented information and dead data. Dynamic or immersive views are either limited or impossible.
As-a-service digital twins
With SmartShape, all these difficulties are a thing of the past. Your project is hosted on a single collaborative platform for all users. They can all view and modify a single copy (no duplicates). Real-time collaborative work allows for rapid iterations, maximises the quality of the information exchanged, and reduces repetition, errors, and rectifications.
Manage the entire life cycle of your infrastructure
The construction of an infrastructure represents only a fraction of its actual cost. Operation accounts for 70 to 80% of the asset's total cost. This is why SmartShape supports you throughout the life cycle of your infrastructure, during its design and construction phases, but also throughout its operation.
The tool is designed to meet the requirements of the many professionals working on the construction of the infrastructure. Operators can also manage their assets by monitoring all the data relating to their infrastructure.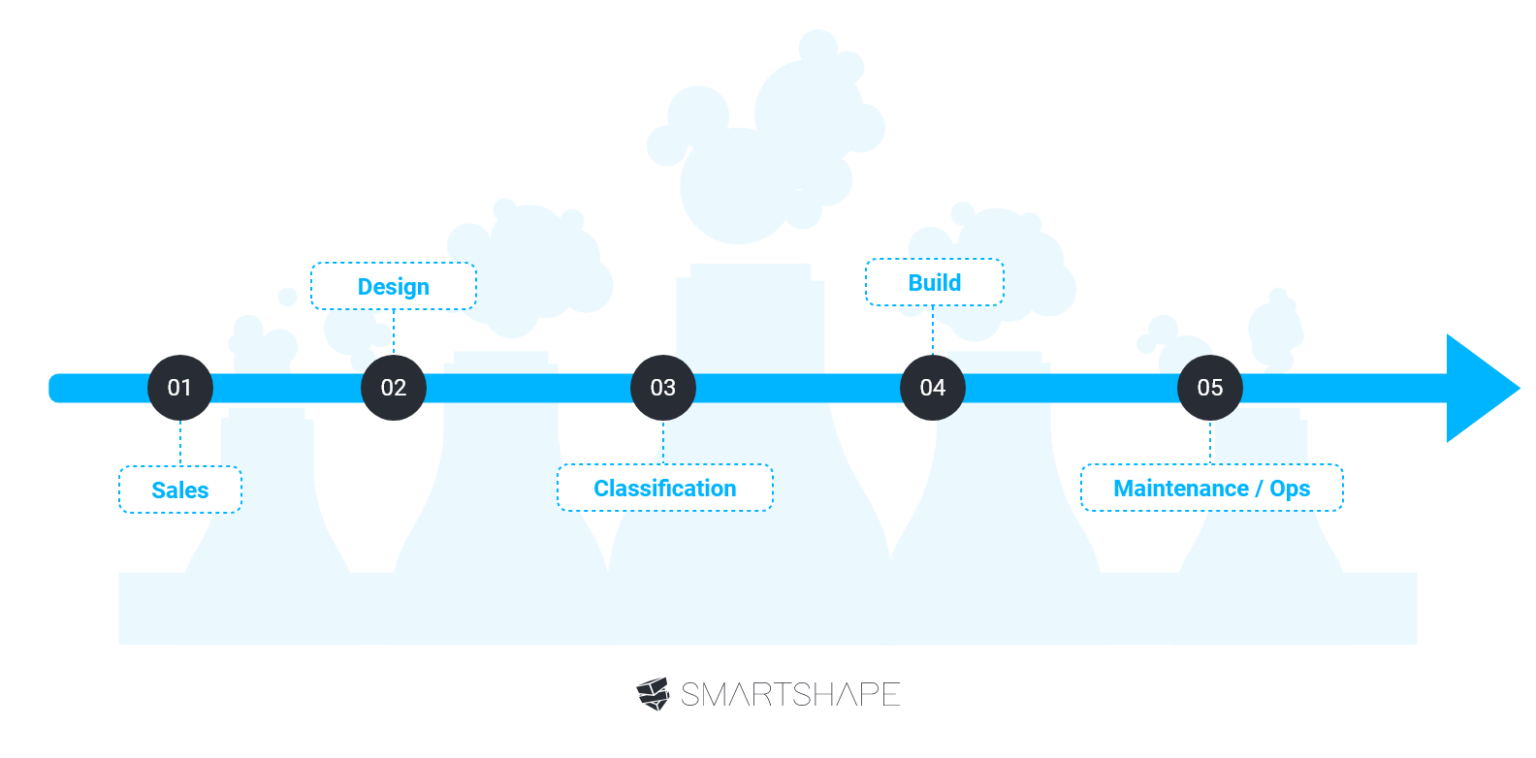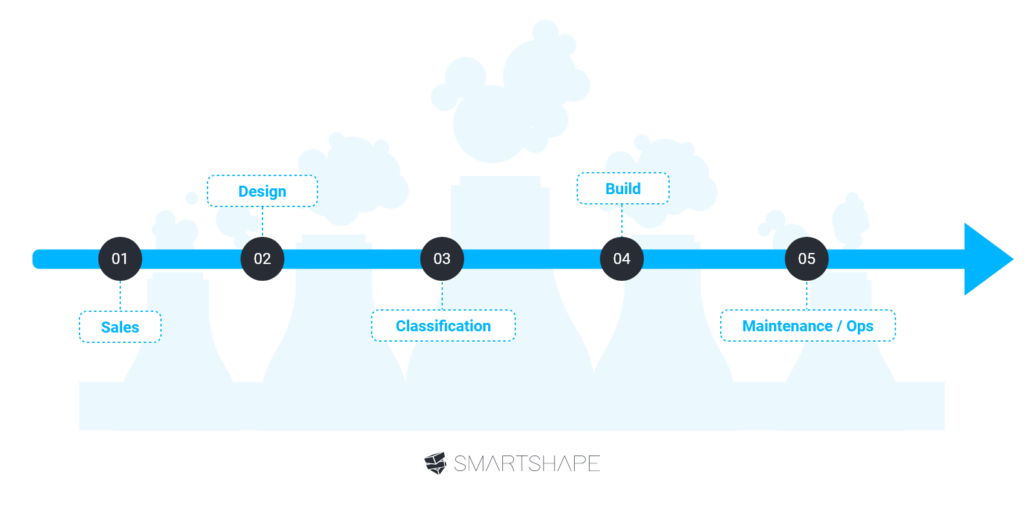 Size up your possibilities with SmartShape
Get in touch with our experts to discuss the specificities of SmartShape for the controlled implementation of your infrastructure project.
Contact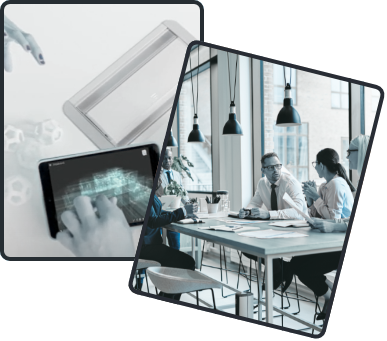 SmartShape: an as-a-Service, self-hosted digital twin to manage your infrastructure construction project.
SmartShape is a complete solution for managing your infrastructure projects, enabling all stakeholders to work collaboratively on a digital twin: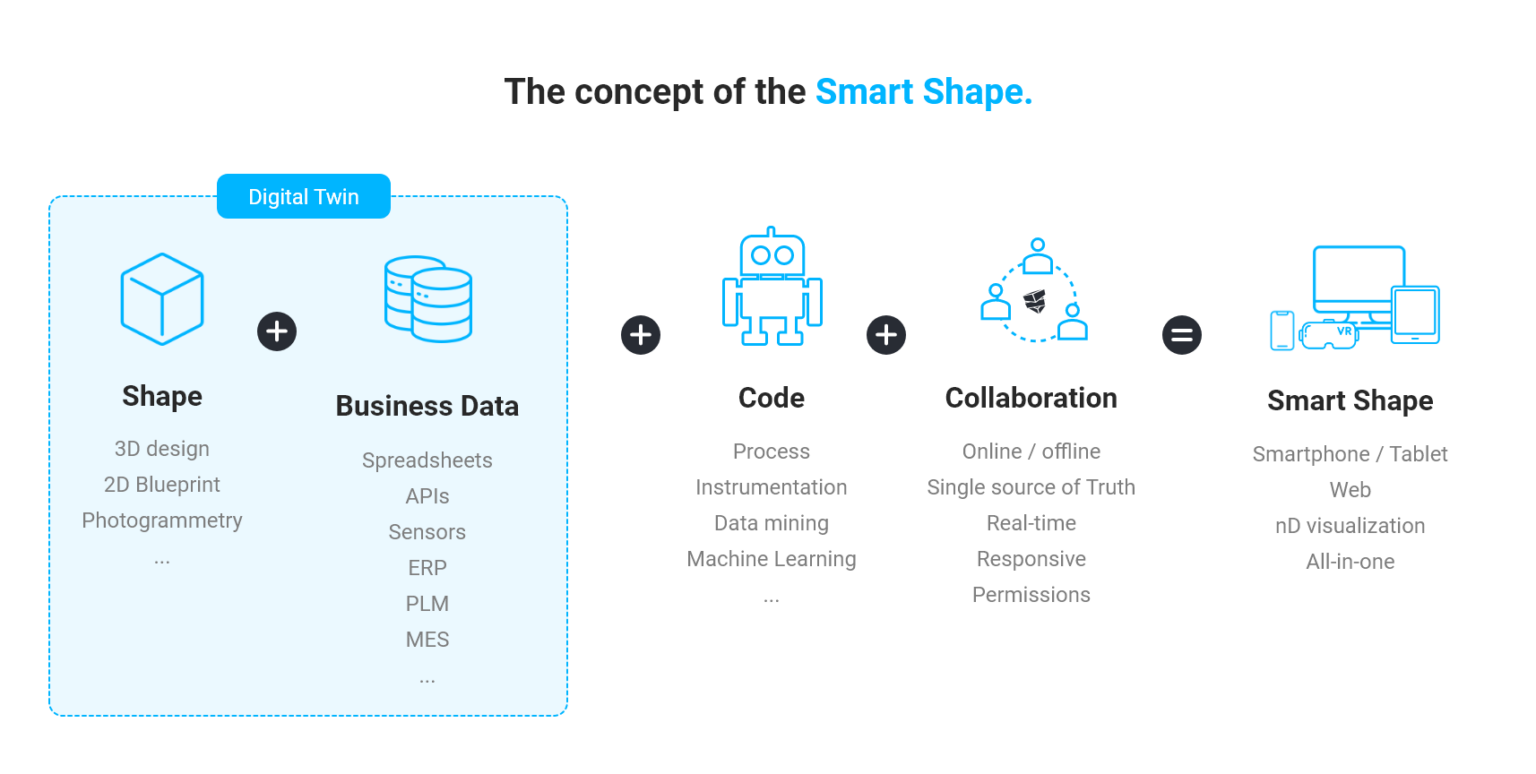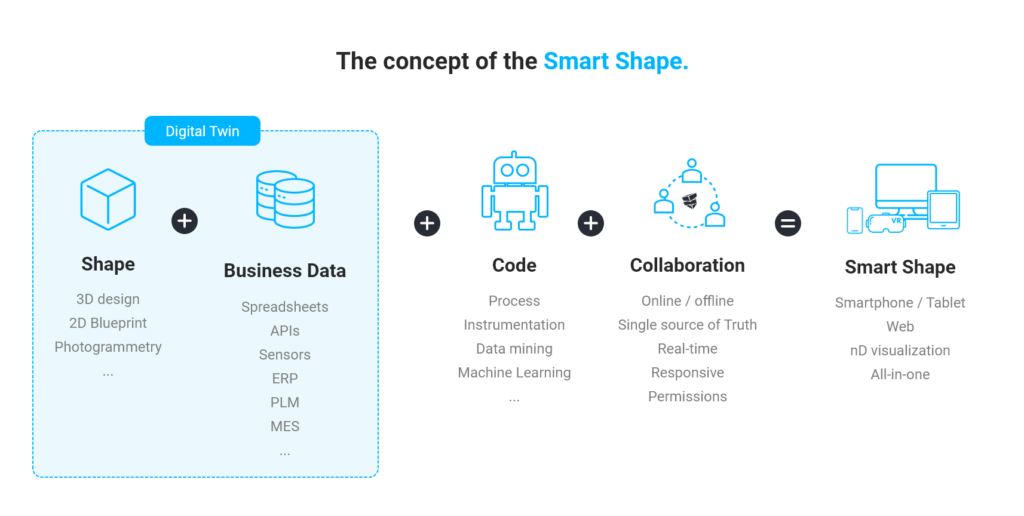 Shape
The digital twin of your project integrates all the information components produced by the different teams, regardless of the software used and the formats generated: 3D files, 2D blueprints, photogrammetry, point clouds. Compatibility issues between tools such as 3DEXPERIENCE and Autodesk Revit are a thing of the past: you can now display data from these different software programs on the same model.
All this information is gathered and constitutes the Shape of your project.
Business data
The project players enrich the model by connecting to the SmartShape API. Whether derived from business software (ERP, PDM, PLM, MES), enclosed in proprietary databases, or produced by sensors (live monitoring) during the operating phase, the data is combined to bring the digital twin to life.
Visualise an Excel spreadsheet of your project, and imagine that all the data it contains is integrated into the digital twin to bring the Shape to life.
Code
SmartShape includes an API and programming language to communicate all the information sources used for your infrastructure project. Thanks to the SmartShape API, you can easily connect your business databases or data from your partners, customers, and suppliers in order to integrate them into the digital twin.
By using all the data produced by all the stakeholders, you benefit from a digital twin that covers the entire project.
Collaboration
SmartShape is a collaborative tool offering stakeholders a real-time collaborative experience. As soon as an annotation or enrichment is added to the model, it becomes visible for all other users.
All information relating to the infrastructure construction project is easily accessible to all teams and at all times.
Focus on the collaboration between SmartShape and Suez/Semeru
SmartShape and the Semeru company (Fayat Group), responsible for the maintenance and improvement of the industrial equipment used to operate the Paris sewerage system, collaborated on a 3D modelling project for the sewers of the City of Paris.
The model created includes modelling of a wastewater treatment plant, combined with modelling of a sewage network in excess of 400 kilometres long. This result was produced using a large-scale 3D scan and photogrammetry carried out by Semeru, and thanks to the use of data acquired by SmartShape.
This 3D modelling of the sewers in Paris made it possible to carry out a virtual tour of the structures, view the equipment in place, and navigate the channels. The maintenance teams can thus prepare their work on site in complete safety.
For more information on the data acquisition process for this project, see the video below: