SmartShape
The response to the complexity of information management at the heart of engineering megaprojects.
Request a demo






Information management in complex industrial projects.
The two major challenges of data processing
Disseminating and promoting information
Collaborating between teams
SmartShape promotes collective intelligence by simplifying the dissemination of information and providing stakeholders with a tool to centralise all their interactions on a collaborative 3D model.
The SmartShape concept
Adapts to the specificities of your IT ecosystem
"As-a-Service" solution on both web and mobile platforms
A complete digital twin
SmartShape provides your teams with a collaborative tool in the form of a 2D or 3D representation of your project.
Find out more
Data available throughout the life cycle of the project
SmartShape uses and enhances data produced by all the various contributing teams: proprietary databases, business software (ERP, PDM, PLM), CAD and CADD software, etc. All this data, integrated into SmartShape, is updated in real time and enhanced by the teams as the project progresses.
The challenges of managing engineering megaprojects.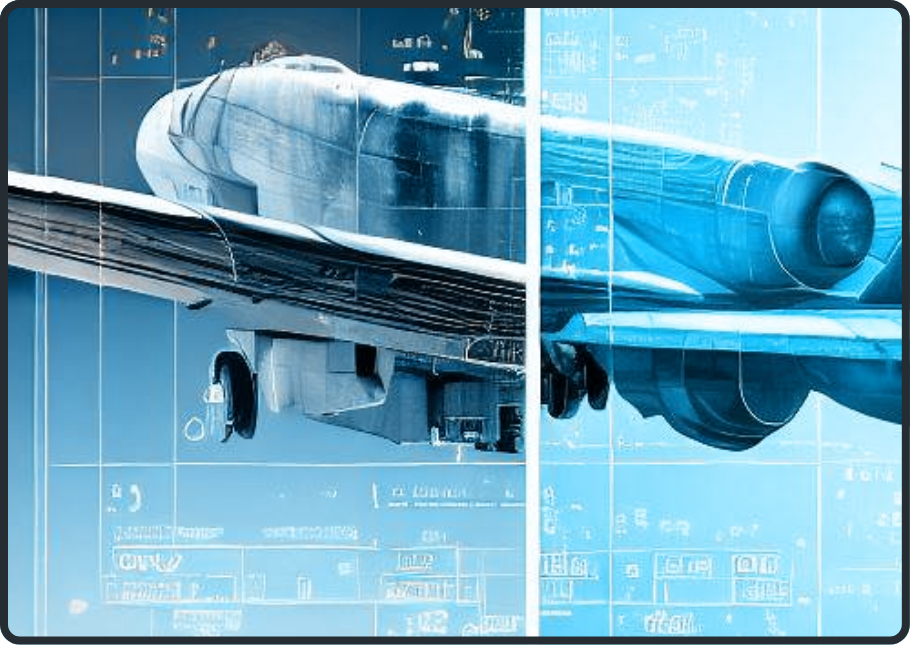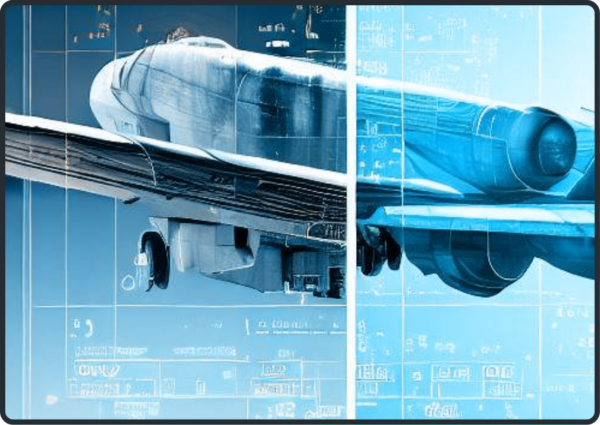 Navigating the ocean of Big Data
The sheer volume of data in a complex industrial project is massive. The data may be fragmented, of variable quality, and dispersed across many files in the IT systems of the project stakeholders.
The variety of systems and software used, as well as the diversity of file formats, lead to multiple data silos. It can feel like there is not one project, but several parallel projects.
This partitioning prevents a clear overview as well as the dissemination and promotion of information. In other words, the information produced is exhaustive and accurate, but difficult to use.
Breaking through the invisible wall between concept and reality
Does the design and operational data of your industrial project remain buried away in databases? How can we align the virtual world of design with the real world of construction?
A collaborative tool is required to leverage the information produced by all stakeholders. A simple 3D viewing tool is not enough to break through the invisible wall between concept and reality. It is crucial to enrich the 3D model in real time to make full use of the project data.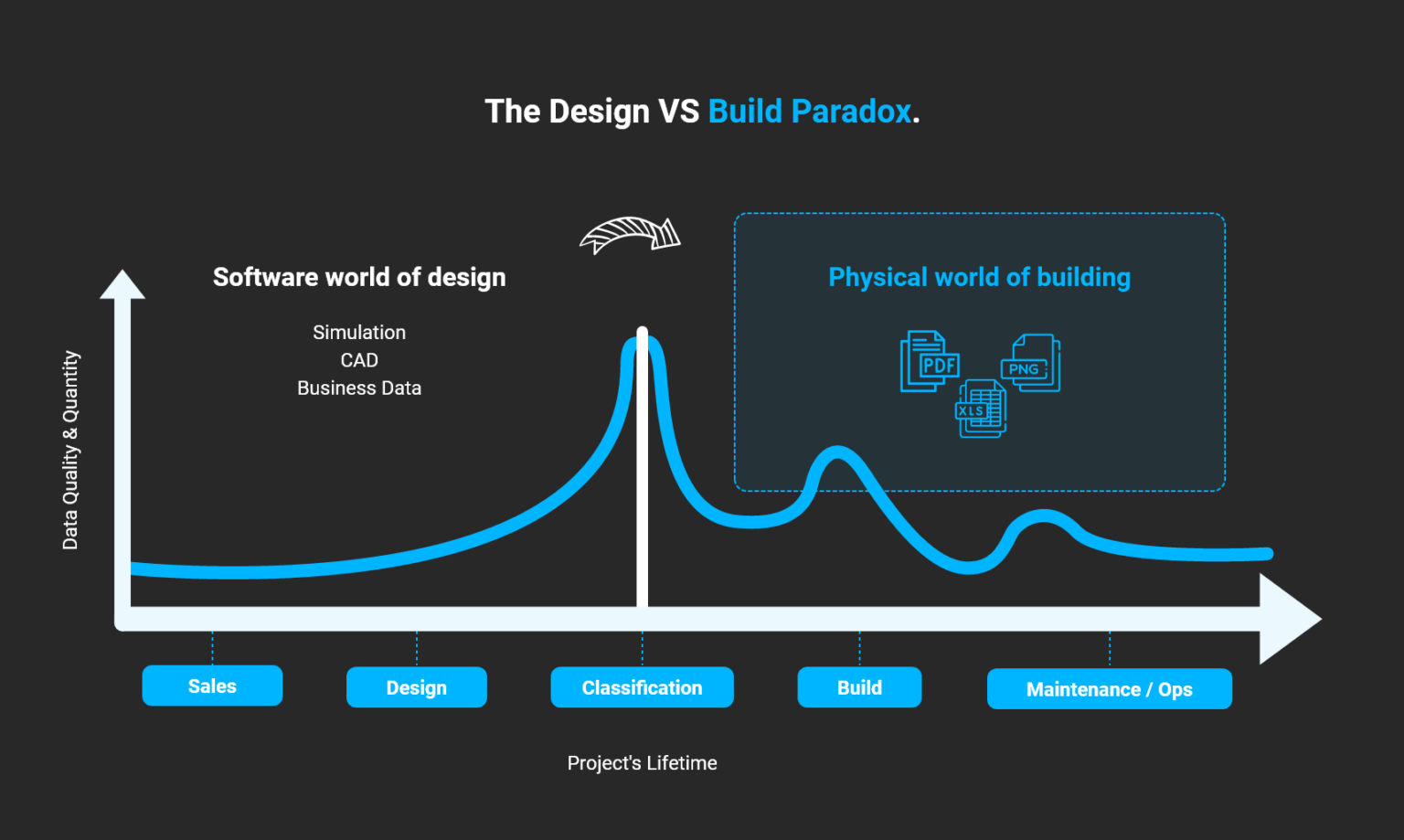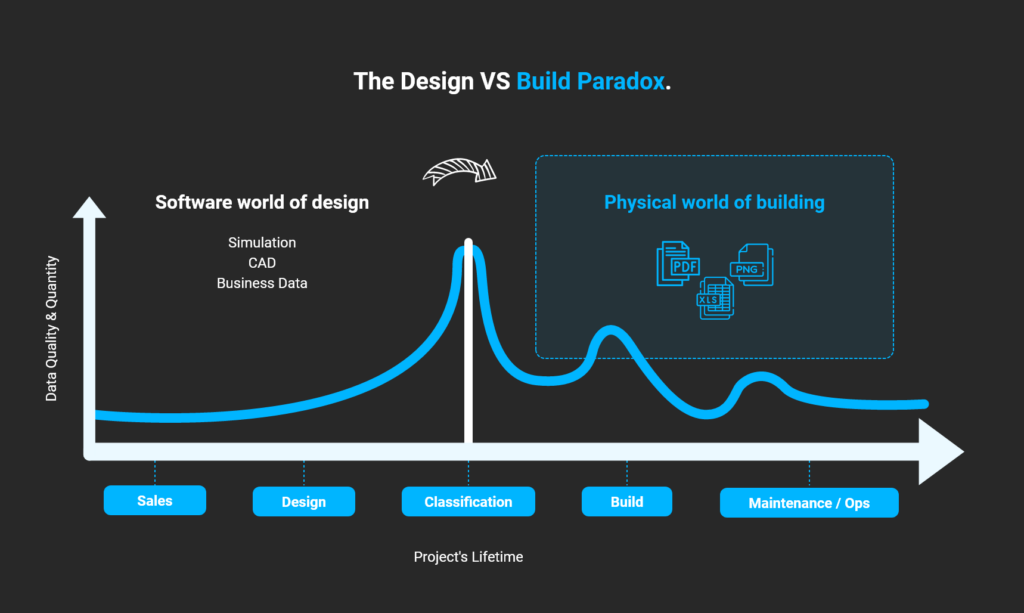 Avoid the pitfalls of project management.
Prevent missed deadlines
Information management issues can cause friction between stakeholders and require them to carry out the same work more than once due to incomplete information. The classification phase is particularly time-consuming with a lot of back and forth conversions between 2D and 3D. The lack of a clear roadmap can leave stakeholders to "work in the dark" and cause delays.
Avoid overspending, representing up to 90% additional costs
The extension of deadlines automatically leads to budget overruns, which may impact the economic viability of the project.
In addition, poor dissemination of information leads to a waste of material and human resources: errors unnecessarily mobilise teams, who are then forced to rework the same aspect of the project several times.
Thwart potential damage to the company's image
Lack of transparency, delays, and excessive costs have a negative impact on a company's image. The failure to deliver can result in a loss of trust and momentum within the market, which also hurts the employer brand. Companies must attract talent by offering an exceptional collaborative experience in order to remain competitive in the shipbuilding, aerospace, and infrastructure sectors.
Any questions?
Your engineering project requires the use of a large volume of data and collaboration amongst a number of teams and individuals who each excel in their field.
Allow us to show you everything that SmartShape has to offer you.
Contact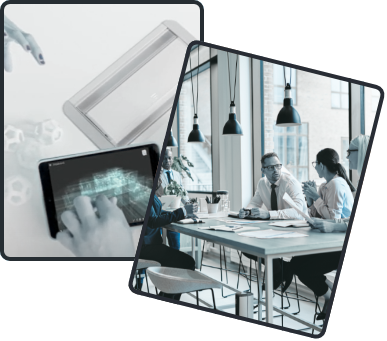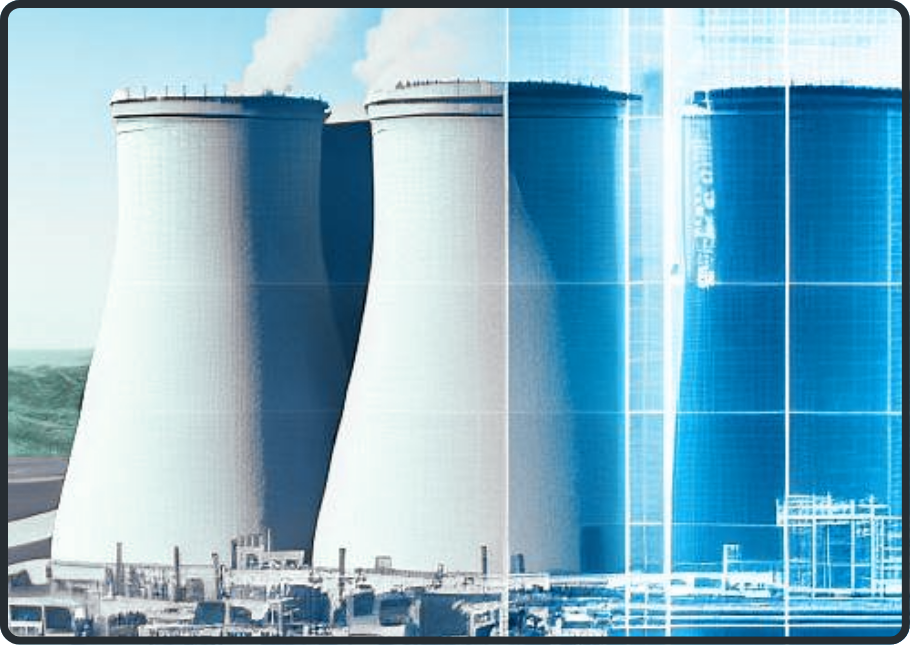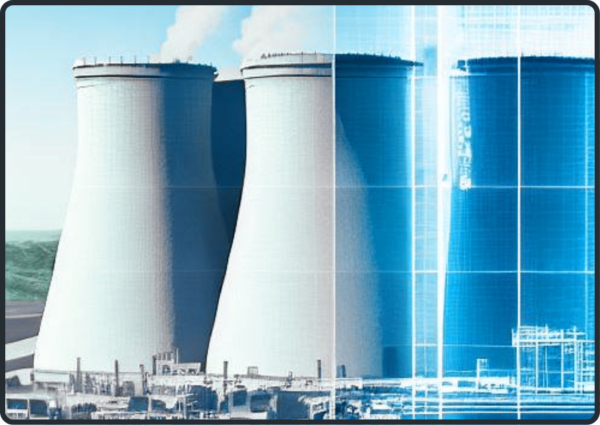 SmartShape: the smartest of shapes for your engineering project.
SmartShape offers a self-hosted web and mobile app that serves as an as-a-Service digital twin. This digital twin represents the complex system designed in real time and to scale. Your project teams can use this digital twin to better understand the model and collaborate remotely and in real time.
An application example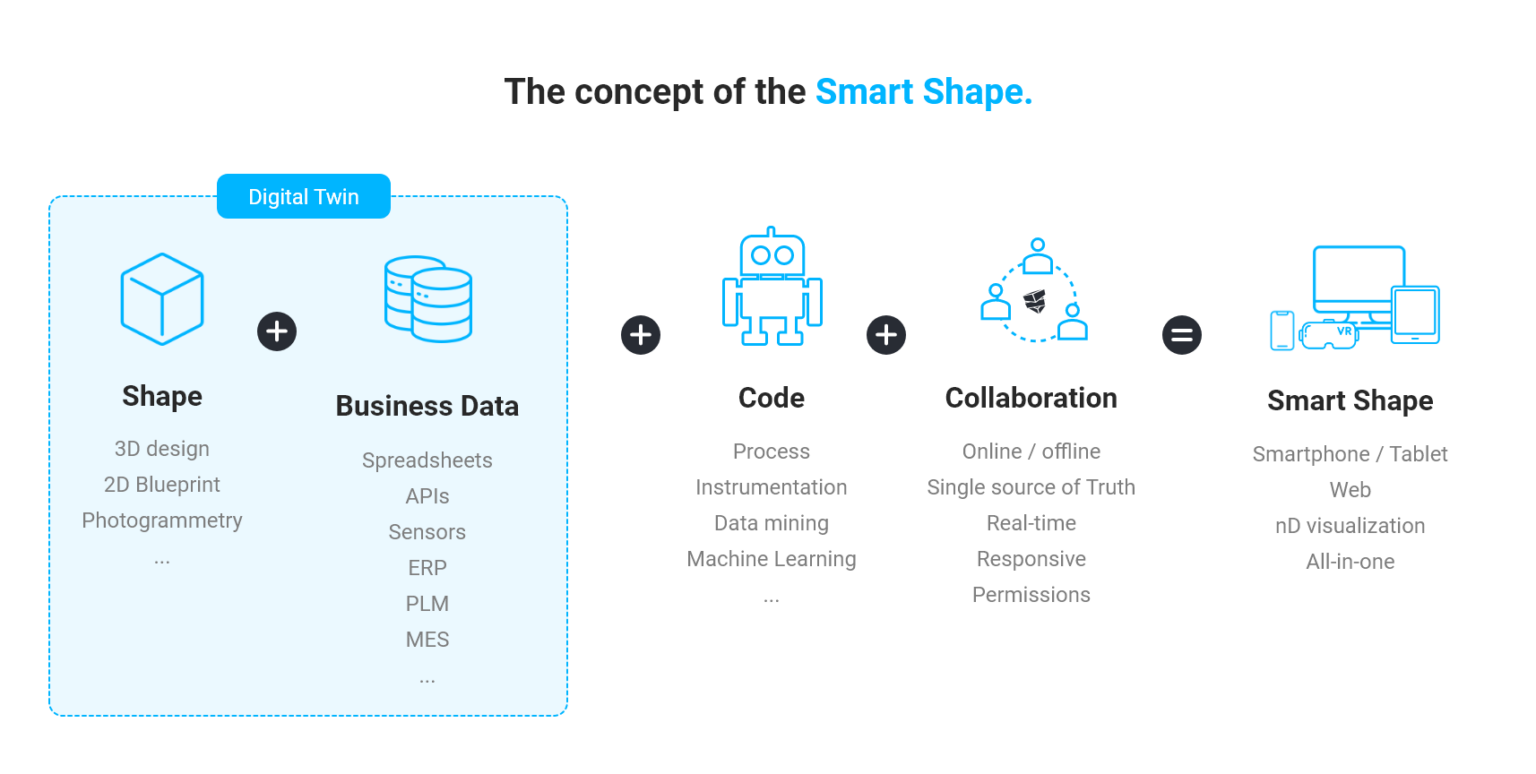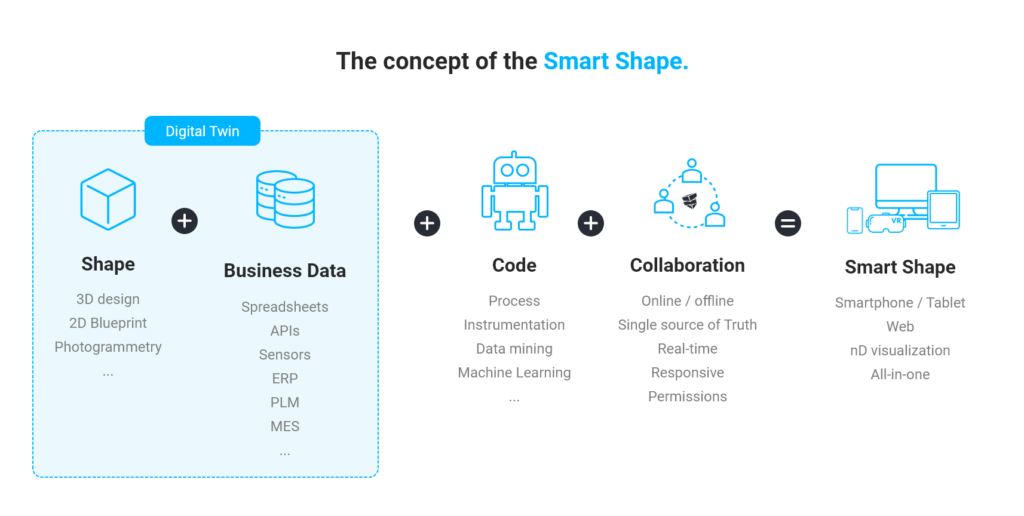 Shape
The digital twin of your project integrates all the information components produced by the different teams, regardless of the software used and the formats generated: 3D files, 2D blueprints, photogrammetry, point clouds. Compatibility issues between tools such as 3DEXPERIENCE and Autodesk Revit are a thing of the past: you can now display data from these different software programs on the same model.
All this information is gathered and constitutes the Shape of your project.
Business data
The project players enrich the model by connecting to the SmartShape API. Whether derived from business software (ERP, PDM, PLM, MES), enclosed in proprietary databases, or produced by sensors (live monitoring) during the operating phase, the data is combined to bring the digital twin to life.
Visualise an Excel spreadsheet of your project, and imagine that all the data it contains is integrated into the digital twin to bring the Shape to life.
Code
SmartShape includes an API and programming language to communicate all the information sources used for your project. Thanks to the SmartShape API, you can easily connect your business databases or data from your partners, customers, and suppliers in order to integrate them into the digital twin.
By using all the data produced by all the stakeholders, you benefit from a digital twin that covers the entire project.
Collaboration
SmartShape is a collaborative tool offering stakeholders a real-time collaborative experience. As soon as an annotation or enrichment is added to the model, it becomes visible for all other users.
All information relating to the construction project is easily accessible to all teams and at all times.
A real-time collaborative platform
Collaborative 3D view of the model.
Annotations and enrichment accessible to all teams.
Two-way enrichment, without delay.
Tests and simulations of modifications for informed decisions.
SmartShape : Features designed from A to Z to meet your needs.
Compatible with over 50 file formats
As SmartShape is CAD-agnostic, it supports more than 50 standard and proprietary 2D and 3D file formats to create the smartest possible shape for your product (3DXML, IFC, SEP, DAE, DWG, RVT, as well as customised open source files, multi-CAD data, etc.).
Programmable and interoperable: for simple and sustainable integration
SmartShape is a plug-and-play solution: its configuration can be easily integrated into all IT environments. It is distributed as a web service, and does not require installation.
With its customised Human-Machine Interface, SmartShape facilitates programming thanks to its open API (over 75 points). SmartShape QL programs, optimised for digital twins, are available in offline mode.
Finally, its open source 3D engine guarantees the transparency and security of your project.
A universal collaborative platform to promote collective intelligence
The SmartShape web platform is compatible with all operating systems (Windows, Mac, Linux). There is no need to adapt existing IT equipment; you can BYOD.
Fast 3D visualisation for large models, no export, and a 3D streaming protocol that broadcasts the model 200 times faster on your devices.
SaaS model, with identical capabilities everywhere, and an optimal quality-performance ratio.
Offline mode and military-level encryption
The offline mode is designed to meet the operational needs of experts who do not always have access to the Internet on site. This is essential in places where information must be accessible without an Internet connection, and where data security is paramount.
SmartShape provides military-level AES encryption for data stored on devices, even in offline mode.
A team of experts at your service for the entire life cycle of your product
SmartShape is more than a product; it is a team of experts, here to help throughout the entire life cycle of your product.
Our agile, creative, and flexible solution starts off with a proof of concept (POC), then a pilot project, before integrating it into all your projects.
Unlike other players, we are not limited by any technical or commercial constraints, and you can choose to entrust us with the integration or do it yourself.
We help with communication between stakeholders and provide comprehensive support in terms of configuration, updates, maintenance, and assistance.